Bathroom Remodel Financing
Ready To Remodel Your Bath?
Homeowner Funding specializes in transforming old and weathered bathrooms into refreshing renovations where you can truly feel free to relax. We will take your bathroom from outdated to outstanding in as little as 1 to 2 days with no mess and at a fraction of the cost it typically takes to finance a bathroom remodel.
Utilizing new technologies, Homeowner Funding can also improve a bathroom's safety with one of our easy-access showers, walk-ins, or roll-in showers. All products are ADA compliant for different levels of mobility.
Think about the rooms in your house where you spend the most time. Aside from the kitchen and the bedroom, the bathroom is surely a room you frequent multiple times a day. Our bathroom remodel financing gives you the leeway you need to see your project through to the end.
Check out our homeowner loans to learn more about your financing options with us.
Reasons to Remodel Your Bathroom
It makes sense that a room where you spend so much time would, at some point, seem outdated to you. However, pure aesthetics aren't the only good reason for remodeling your bathroom. Other reasons include:
Bad plumbing: If your bathroom is particularly old and fixing it would require parts of the room to be torn up, you may want to spring for a total remodel. As long as the piping will be exposed, you might as well fix up everything at once instead of dragging out the process.

Unsafe conditions: Maybe you have put off replacing those wall or floor tiles, and now they have started to slip off or crack. Those conditions represent hazards to the safety of you and your family. The bathroom is one place where you don't want to worry about getting hurt, and a total remodel may be the solution.

Home value: Homebuyers and real estate agents know that an updated, recently renovated bathroom increases the value of a house. If you are looking to move relatively soon and want the bathroom renovations out of the way before you do so, you will want to start thinking about remodeling plans.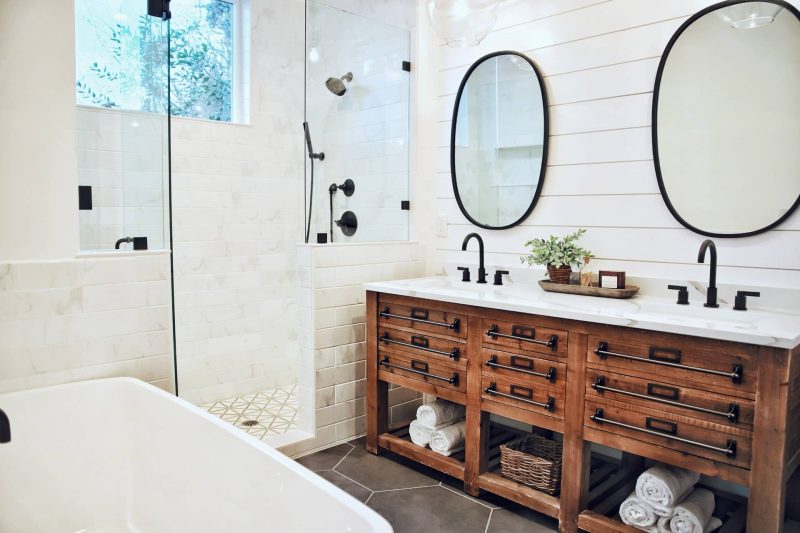 What Aspects of the Room Should Be Remodeled?
Homeowner Funding's bathroom remodel financing can provide you with funds no matter what part of your bathroom you are remodeling or if you're going for the whole room. Whatever your situation, here are some areas to consider:
Showers:

We have been offering acrylic shower pans for nearly a quarter of a century. These versatile bath fixtures are produced to meet the highest quality standards in the industry. We also help customers to get grants for walk-in showers, a welcome feature in many bathroom layouts. 

Accessories:

Customize your new tub or shower enclosure from Homeowner Funding's complete line of unique accessories. We have what you need to make your bathroom as individual as you are from the shelves, safety grab board, and hardware.

Bathtubs & Surrounds:

Homeowner Funding is pleased to offer a large selection of 5-foot acrylic replacement tubs. These tubs are constructed from non-porous, mildew-resistant acrylic reinforced with structural foam for improved durability. In addition, the acrylic will keep your water hot up to four times longer than your existing steel or cast-iron tub.

Walk-In Bathtubs:

Homeowner Funding has the ideal solutions for the physically impaired bather. We can retrofit an accessible bath solution that will allow you to remain independent while maintaining your dignity. For the bather who seeks a more therapeutic bathing experience, Homeowner Funding offers a deep-relaxing soaker or whirlpool tub with directional water jets for ultimate comfort.
Apply for Bathroom Remodel Financing with Us
Whatever you have in mind for your bathroom remodel, Homeowner Funding is happy to work for you while providing the bathroom remodel financing that will get it all done. We invite you to start taking advantage of our home improvement financing today if you need a complete bathroom remodel.
Apply now for one of our financing options so you can be on your way to a beautiful new bathroom as quickly as possible.
Contact Us Today to Discover Programs
Client Approval: This is not an application for credit. By submitting this form, I grant authorization to order a copy of my credit report to use in conjunction with this pre-qualification worksheet for home improvement funding purposes to discover is a special program is available for your project. By clicking Submit, I give my elec. Sig. and consent for In Homeowner Funding and/or its Affiliates to contact me at the phone number above, including by text msg. autodialer or pre-recorded msg. Consent not required for purchase. Msg. & data rates may apply.
The overall value and professional was very much appreciated by me and my family. I would definitely recommend them to anyone.
Christopher J.
Swoyersville, PA, on Oct 04, 2016
They were very friendly people. Everything they did was clean. They did a great job, and explained every step to me. They were very good at answering all my questions.
Claudio V.
Dingmans Ferry, PA, on Apr 05, 2016
They were very efficient and the crew was most excellent. The job was done in a matter of a few hours. I was happy and delighted. Everything just worked out wonderful. The paperwork was not hard to understand and I would advise anyone who is looking for a new roof to call PA Homeowner funding.
Dawn M.
Freeland, PA, on Apr 05, 2016
%
of customers are happy with their appointment.
%
of customers are extremely happy with our installers.