Give your house a dramatic makeover with durable, maintenance-free siding.
Of all the exterior home siding choices available today, vinyl siding stands out for the excellent value it offers. The vinyl material sheds moisture rather than absorbing it. Vinyl siding also does not support mold or mildew growth and won't succumb to moisture damage.
On the aesthetic side, vinyl siding is designed to look good for many years, retaining its original color despite exposure to extreme elements. This siding product also delivers impressive performance without requiring any maintenance. The installation is the only expense.
New siding, along with a well-maintained roof, can increase the curb appeal and actual value of your home. Homeowner Funding is your one-stop source throughout the Northeastern United States for all the homeowner loans you need to handle your home's roofing and siding.
To apply for home improvement funding for your home, give us a call at 800-792-8259 or apply online.
Benefits of Vinyl Siding
Vinyl siding's popularity has grown significantly over the years, and it's easy to see why when you consider the benefits.
Made primarily from PVC (polyvinyl chloride) resins, vinyl siding was first manufactured in the 1950s, but it wasn't widely used until the late 1970s. Vinyl siding requires no maintenance after installation. It is immune to mold and moisture damage, and customers have plenty of styles and colors to consider. For instance, in better-quality vinyl siding, a wood-grain surface texture can make the product look surprisingly like real wood. Better grades of vinyl siding also tend to be thicker, for improved rigidity and greater impact resistance.
Since PVC expands and contracts significantly in response to temperature changes, vinyl siding can't be solidly nailed to wall sheathing. Instead, each course of siding "floats" on slotted nailing fins. The visual effect, however, is an appealing look to your house that everyone will instantly recognize as vinyl.
The overall impression created by new vinyl siding is as much about trim details as it is the siding itself. In a truly professional installation, the corner trim, J-channels, soffit panels, gutters, and downspouts all look good together. Compatibly colored caulks and sealants should also be used. Make sure to discuss these details, along with your other siding specifications, when planning your new siding installation with Homeowner Funding.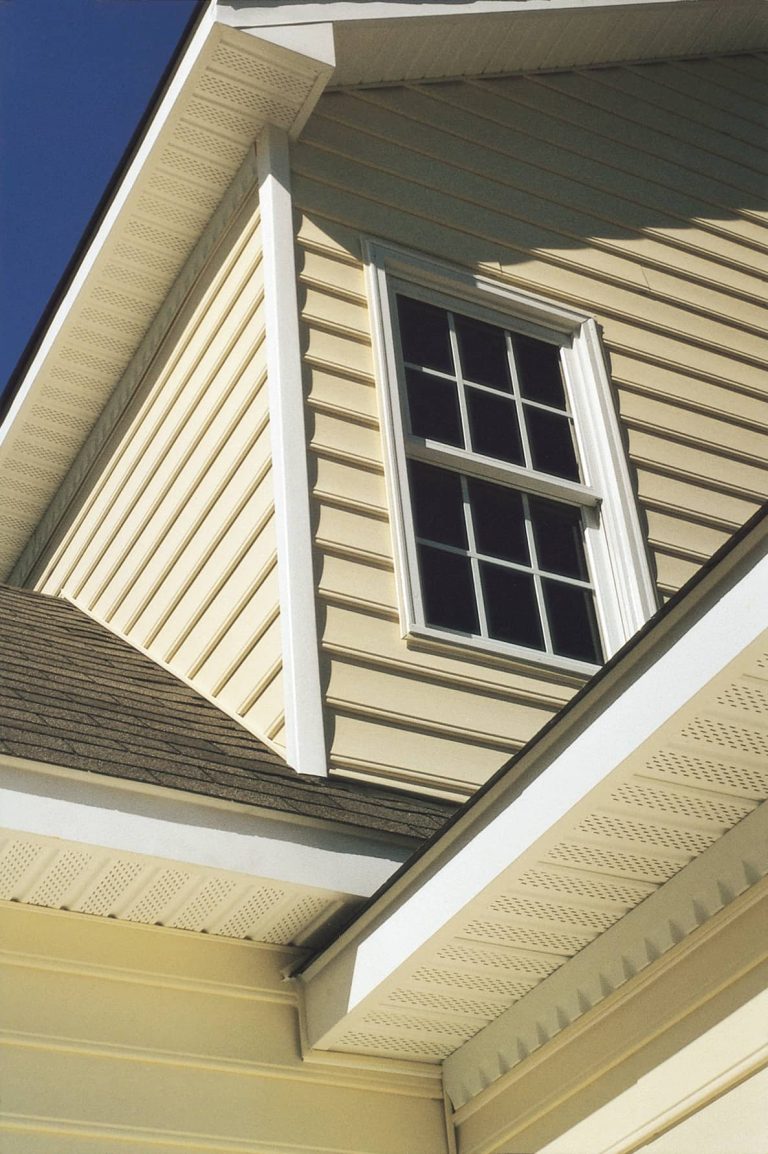 Siding Loans Are Available Through Homeowner Funding
Home improvement projects don't come cheap. Fortunately, the answer to the question "Can you finance siding?" is a resounding "yes!" The aesthetic and practical benefits of maintenance-free vinyl siding are yours to take full advantage of thanks to siding loans available from federal, state, and local governments.
Many homeowners aren't even aware of how many vinyl siding financing options are available to them. At Homeowner Funding, however, it's our job to know. Our expert team of contractors and consultants can help you navigate your home improvement project from start to finish. We can help you find the best loans and grants for siding a house, determine which ones you're eligible for, and walk through the application process.
Once you have the siding financing you need, Homeowner Funding can also help you choose the best materials for the job. Our contractors are among the best, most professional renovation experts in the field today. You can rest assured that your home improvement dreams are in good hands.
Homeowner Loans for New Vinyl Siding
Homeowner Funding is a leader in providing homeowners in the Northeast with the resources and expertise they require to get the home improvement financing they need. From Pennsylvania to Rhode Island and many states in between, our customers have relied on us since 2005 to provide the funding they need to improve their homes to their own specifications.
We realize that many of the changes people want to make to their homes can be cost-prohibitive. We are here to help. We want you to get in touch with us and let us know what you are planning. Then, we'll contact you to discuss how much you need and how best we can help.
To apply for new vinyl siding financing for your home, give us a call at 800-792-8259 or apply online.
Contact Us Today to Discover Programs
Client Approval: This is not an application for credit. By submitting this form, I grant authorization to order a copy of my credit report to use in conjunction with this pre-qualification worksheet for home improvement funding purposes to discover is a special program is available for your project. By clicking Submit, I give my elec. Sig. and consent for In Homeowner Funding and/or its Affiliates to contact me at the phone number above, including by text msg. autodialer or pre-recorded msg. Consent not required for purchase. Msg. & data rates may apply.
The overall value and professional was very much appreciated by me and my family. I would definitely recommend them to anyone.
Christopher J.
Swoyersville, PA, on Oct 04, 2016
They were very friendly people. Everything they did was clean. They did a great job, and explained every step to me. They were very good at answering all my questions.
Claudio V.
Dingmans Ferry, PA, on Apr 05, 2016
They were very efficient and the crew was most excellent. The job was done in a matter of a few hours. I was happy and delighted. Everything just worked out wonderful. The paperwork was not hard to understand and I would advise anyone who is looking for a new roof to call PA Homeowner funding.
Dawn M.
Freeland, PA, on Apr 05, 2016
%
of customers are happy with their appointment.
%
of customers are extremely happy with our installers.