Have the independence and worry free ability to enjoy bathing again safely.
Walk-in bathtubs provide you with safe and enjoyable bathing experiences with health benefits that can significantly increase your quality of life. The air and water jets may improve circulation and ease the symptoms of arthritis, back pain, muscle cramps, osteoarthritis, and other ailments. Our exclusive, ergonomically designed single-lever faucet provides rapid fills and is easy to use.
Walk-in tub financing from Homeowner Funding makes it all possible. Borrow just what you need to get the job done and pay it back once your renovations are installed. A walk-in tub from Homeowner Funding will help you become independent and enjoy bathing safely and without worry.
Learn more below about the features of our walk-in tubs. And you can apply online now for our walk-in tub financing!
What Is a Walk-In Bathtub?
As the name implies, a walk-in tub is a bathtub designed for you to literally walk into. Most walk-in tubs are designed to provide more vertical space than the horizontal orientation of normal tubs. They also usually come equipped with footholds and handlebars, and may even include a seat so you can remove pressure from your legs while bathing.
Though walk-in tubs are especially beneficial for those concerned about the danger of slipping and falling while climbing in and out of the tub, anyone can take advantage of their stress-relieving, circulation-improving, and therapeutic spa-like qualities.
Homeowner Funding's walk-in tub features include the following:
Ergonomic Handheld Shower Wand

Built-in Safety Grab Bar

Removable Front Access Panel

Inward-Swinging Door for Ease of Entry and Exit

Safe and Easy Low Entryway

Nationwide Service Network

Limited Lifetime Warranty
Our spacious, full-featured bathtubs are designed for your comfort. The different sizes provide the benefits of a nice soak while allowing you to enjoy the hydrotherapy jets safely and comfortably. And you can have all this without breaking the bank! Our walk-in tub financing lets you pay for your new tub based on your comfort level. 
Exclusive Walk-In Tub Features and Specifications
In-Line Water Heater (to maintain water temperature)

Chromotherapy Lighting/Aromatherapy

Colors: White or Almond

Left- or Right-Hand Door

Ergonomically Designed Grab Bar

New and Improved Handheld Shower Wand with Strap and On/Off Switch

High-Gloss Acrylic Surface

Stainless Steel Frame
Soaking in your walk-in bathtub also helps to:
Relieve stress

Create a relaxing environment

Create a spa-like experience with the aromatherapy fragrances

Reduce aches and pains

Improve blood circulation
How a Walk-In Tub Works
Light- Controls the chromotherapy lighting system. Each press of the button will cycle through the nine color sequences.
Pure Air- Turns on the air injectors that mix with the water to provide a gentle air massage.
Whirlpool- Turns on the therapeutic whirlpool jets.
Air Control- Adjusts the amount of air introduced into whirlpool jets. Less air provides softer hydrotherapy. More air provides more vigorous hydrotherapy.
Adjusting Jets- Each jet can be adjusted for more or less water pressure by turning the outside ring clockwise or counterclockwise. Adjust the direction by simply moving the inner nozzle.
Cleaning- Wipe the inside surface with any non-abrasive, non-ammonia spray cleaner.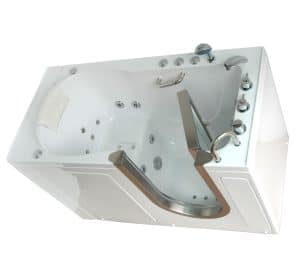 Walk-In Bathtub Features & Benefits
Our full-featured, compact bathtub is designed for confined spaces such as showers and small baths. It is 32 inches wide by 37 inches deep. The tub features an outward swing door and three finished sides so it can be installed almost anywhere. Its unique size provides the benefits of a nice soak but still offers all the desired features of a traditional walk-in bathtub.
Exclusive Features and Specifications
In-Line Heater

LED Chromotherapy Lighting

Colors: White or Biscuit

Left- or Right-Hand Door

Secondary Door Drain

High-Gloss Gel Coat Finish

Hand-Applied Fiberglass Cloth Shell

Stainless Steel Frame

45-Gallon Capacity
Does a Walk-In Tub Add Value to a House?
Walk-in tubs are an excellent way of adding value to your property. If a prospective buyer is someone or lives with someone who is elderly, disabled, or otherwise prone to slipping and falling, having a walk-in tub in your home immediately increases its resale value.
Buyers who don't have a specific need for a walk-in tub may also be interested in your property, as walk-in tubs provide just as many benefits for the able-bodied. Some buyers, however, will not be interested in owning a home with a walk-in tub.
If resale is high on your list of priorities, it's a good idea to have both a walk-in tub and a more traditional bathtub in your property. This allows you to meet the needs of a wider range of potential buyers.
Government Grants for Walk-In Tubs Are Available
Plumbing work and bathroom renovations are among the most highly sought-after home improvements today. At the same time, they're also among the most costly. Many homeowners don't realize how many walk-in tub financing options are available to them.
Luckily, the home improvement financing professionals at Homeowner Funding are here to help. We can help you find and apply for government grants for walk-in tubs, as well as financing programs for other home improvements.
If your house requires remodeling, repairs, renovations, or replacements, you may be able to get the work you need done for little or no cost to you. Homeowner Funding has the knowledge and resources to help you get the financial support you need.
Apply for Walk-In Tub Financing Now
You can see how walk-in tubs from Homeowner Funding add convenience and luxury to your bathroom. Not only are they safer for everyone, but they also provide you with features that a standard tub can't even touch, from the therapeutic jets to the lighting system.
Homeowner Funding realizes that major upgrades such as this can cost a lot of money upfront. That's why we are happy to provide our customers with walk-in tub financing. We install your tub today, and you start repaying your loan afterward. It's that simple.
Apply now for our walk-in tub financing or call us at 800-792-8259!
Contact Us Today to Discover Programs
Client Approval: This is not an application for credit. By submitting this form, I grant authorization to order a copy of my credit report to use in conjunction with this pre-qualification worksheet for home improvement funding purposes to discover is a special program is available for your project. By clicking Submit, I give my elec. Sig. and consent for In Homeowner Funding and/or its Affiliates to contact me at the phone number above, including by text msg. autodialer or pre-recorded msg. Consent not required for purchase. Msg. & data rates may apply.
The overall value and professional was very much appreciated by me and my family. I would definitely recommend them to anyone.
Christopher J.
Swoyersville, PA, on Oct 04, 2016
They were very friendly people. Everything they did was clean. They did a great job, and explained every step to me. They were very good at answering all my questions.
Claudio V.
Dingmans Ferry, PA, on Apr 05, 2016
They were very efficient and the crew was most excellent. The job was done in a matter of a few hours. I was happy and delighted. Everything just worked out wonderful. The paperwork was not hard to understand and I would advise anyone who is looking for a new roof to call PA Homeowner funding.
Dawn M.
Freeland, PA, on Apr 05, 2016
%
of customers are happy with their appointment.
%
of customers are extremely happy with our installers.